The Underwater Pyramids of Yonaguni
March 12, 2021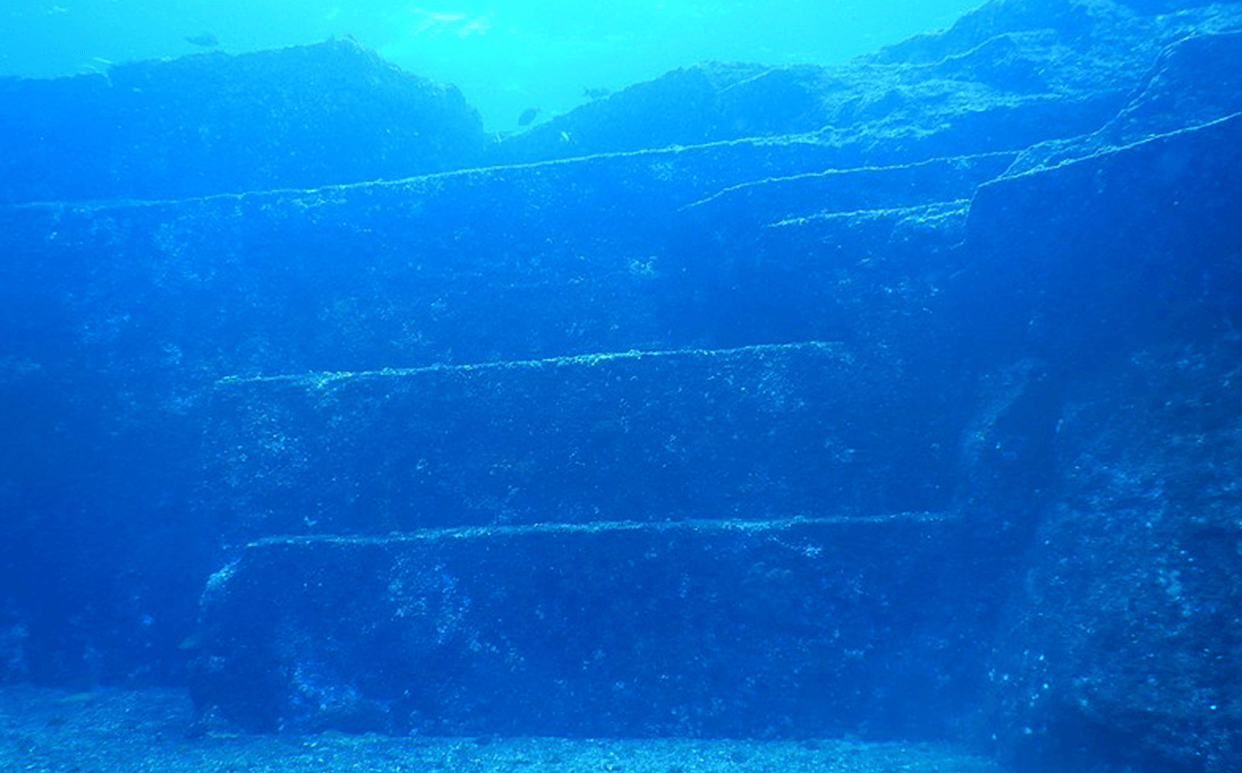 Off the coast of the westernmost island of Japan lies a mysterious and spellbinding submerged city from past times. Known as the Yonaguni Monument, underwater stone pyramid structures within these ruins are now the subject of exploration and scientific study via scuba diving and sonar. Where are they, who discovered and made them, and do they have any connection to other ancient pyramids found elsewhere in the world?
Located offshore of an isolated Japanese location in Okinawa called Yonaguni Jima lies the Yonaguni Monument. Due to Yonaguni's remote location at the southernmost point of the Ryukyu chain of islands, it is only accessible by a public ferry, private boat, or airplane from the Naha or Ishigaki airports. Therefore, Yonaguni boasts remarkably well-preserved culture, history, and wildlife. With only 1,500 full-time human residents, there is also a small, free-roaming indigenous breed of Yonaguni ponies numbering a mere 130, making them extremely endangered.
Surprisingly, the discovery of the submerged Yonaguni Monument ruins did not occur until 1986. A Marine Geologist from the nearby University of Ryukyu named Masaaki Kimura was the first to find the monument while scuba diving. He has also been instrumental in studying its contents and topographies since the initial finding over 30 years ago.
Sunken to the ocean floor at a depth of approximately 25 meters, this Atlantis-esque cityscape was constructed from sandstone and mud carbon dating back 20 million years. Chronologically, this puts the Yonaguni Monument's construction back at the time a land bridge existed from Yonaguni Island to mainland Japan, which is 75 miles away. For anyone interested in underwater tourism, a big draw to the island, divers are required to be certified to scuba dive to a depth of 52 meters, which is the lowest point of the sunken city.
The main focus of this underwater attention is the ziggurat, which is a form of a pyramid that has a stair step face instead of smooth sides. Amazingly, other ziggurats are in parts of ancient Mesopotamia in modern-day Iran and Iraq, which is over 5,000 miles away. Additionally, the Mayan peoples of modern Mexico made spectacular ziggurats that still stand today, and the first Egyptian pyramids were all in the ziggurat form as well.
Drawing and carvings on the pyramid's stones date to 10,000 years ago. Locals attribute these markings as being made by the legendary and long-lost Japanese sea-faring peoples known as the Lemuria. Evidence is being examined to prove or disprove this theory by checking into possible similarities to far-away culture's linguistics. However, due to natural erosion, skepticism from some language scholars is ever-present.
In conclusion, the ocean engulfed Yonaguni Monument located at Japan's Yonaguni Island is a fascinating and mystifying example of ancient pyramid architecture. Since its discovery in the late 1980s, scientists and diving tourists revel in its mysterious nature and continue to search for more definitive answers about its origins and significance.