The Galactic Center
April 11, 2013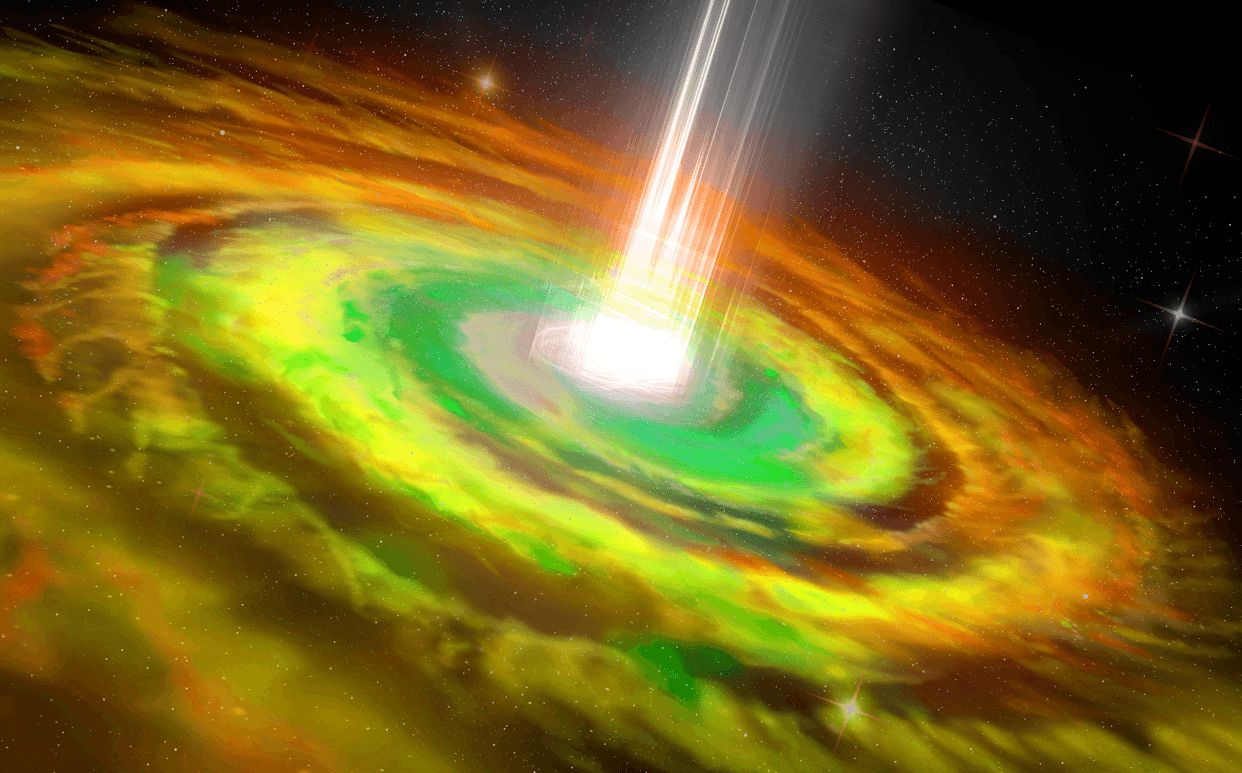 As much as each one of us would like to think we are the center of the universe, that particular title has been taken since the early 1900's when what is called the "Galactic Center" was determined to be the actual center of the Milky Way galaxy.
Astronomer Harlow Shapley was the first person attributed to finding the coordinates of the Galactic Center in 1918 when he was studying globular clusters. The 1930's brought more attention to this topic when an engineer for Bell Telephone Laboratories named Karl Jansky was trying to find out how to fix static issues on overseas telephone lines. Jansky built a 95-foot radio telescope (the first of its kind), to help find the origin of the static. Part of that static was coming from the Galactic Center, which is noted to be at 26 degrees of Sagittarius in astrological terms.
Over the decades, refined technology has enhanced the study of the Galactic Center and astronomers in recent years have confirmed that there is a supermassive black hole containing four million suns in the Center. In fact, there is much anticipation by current astronomers for further study the mid part of this year (2013) as an increase in activity is expected in the black hole region.
Black hole formation occurs when stars collapse or die, if you will. These dead stars then generate an intense gravity that sucks everything from millions of miles around into it, even light. Light can't exist in a black hole, which is primarily how they got their name. Everything that gets absorbed into a black hole disappears. It doesn't evaporate or transform, it literally vanishes.
The immense gravitational field contained in the supermassive black hole has piqued interest in those that believe time travel is possible. These individuals base their scientific research on Einstein's theory of general relativity and evidence compiled by Harvard physicists and they claim that time travel into the future would be possible in this mass of gravity, but not into the past. Reasons for this theory are not stated in plausible terminology and it's sort of a moot point as the Galactic Center is estimated to be about 26 million light years away from us.
Astrologers consider the Galactic Center activity intense enough that they use it as an auspicious point in chart interpretation and they include it just as they would any other planet from our solar system. The point of 26 degrees Sagittarius is heralded as special because it pertains to the location of the Galactic Center. Individuals that have planets aligned to this degree are thought to have great potential for the betterment of humankind.
Prominent persons with the Galactic Center highlighted in their charts include Alfred Adler (psychologist and psychiatrist), Napoleon Bonaparte (Emperor of France), George Bush Senior (President of the United States), Prince Charles of England, Bill Clinton (President of the United States), Hillary Clinton (First Lady and Secretary of State of the United States), Princess Diana of England, Bob Dylan (Musician) and Queen Elizabeth II of England to name a few.
The attraction to the mysteries that lie within the Galactic Center, whether spiritual or scientific will only expand in years to come.