Japan's Suicide Forest
October 8, 2021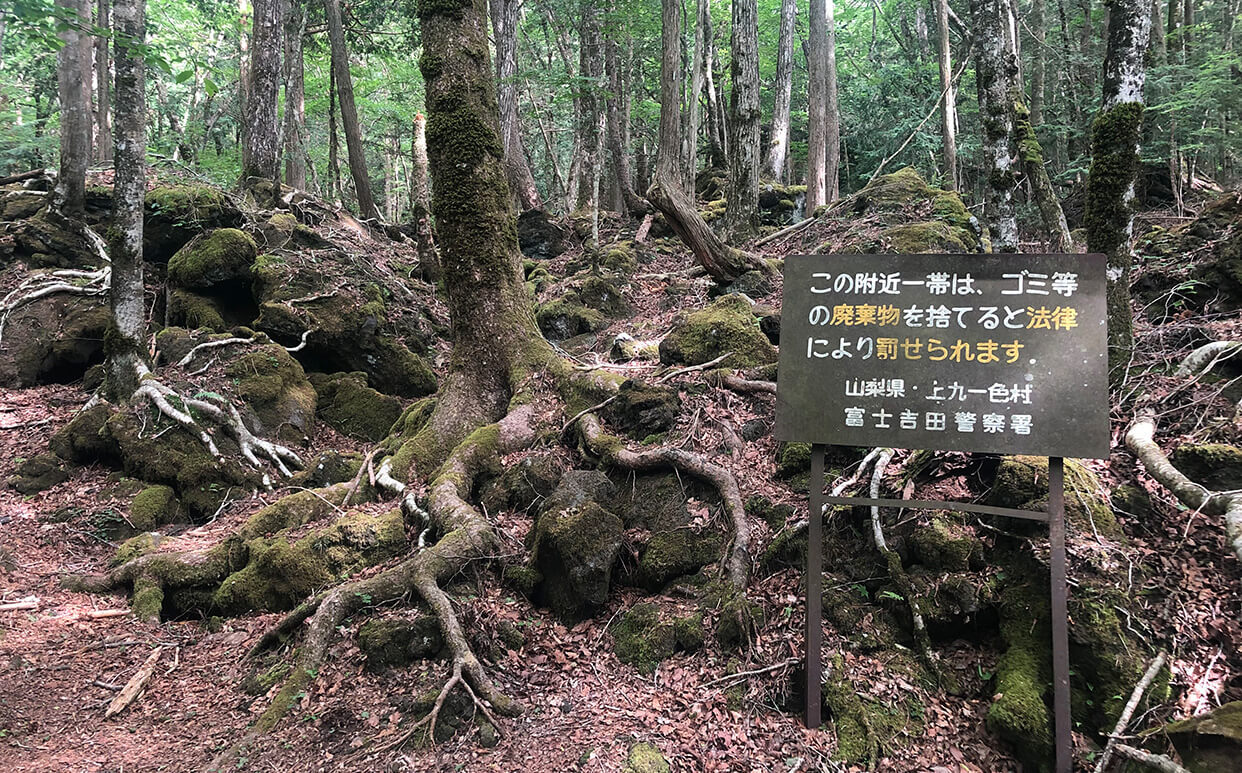 Near Mount Fuji, in Japan's Minamitsuru District, lies the Suicide Forest. Also known as Aokigahara Jukai, or the Sea of Trees, this wooded area is home to an average of twenty suicides per year. But why? Are spirits or sadness to blame?
To enter this eerie destination on foot, first, park your car at the Lake Sai Bat Cave, which is right near the trailhead into the Suicide Forest. Enter this 13.51 square mile patch of wild and often impenetrable woods, only if you dare.
As one goes into the forest, markedly noticeable wooden permanent posted signs say, "Meditate on your parents, siblings, and children once more. Do not be troubled alone," and "Your life is something precious, given to you by your parents." Beyond, you can see prayer ribbons eerily blowing from the trees like rows of thin ghosts from a seemingly infinite number of trees.
The Suicide Forest was formed initially from cooled lava, spewed forth during Mt. Fuji's last enormous eruption in the current era year of 864. Therefore, the extra fertile soil from this igneous rock ground makes for especially heavy plant growth.
A potentially deadly combination effect of this atypically dense flora and the magma under it makes getting lost in the Suicide Forest a life-or-death situation. How come? First, the remote location does not receive cell phone signals. Second, the magnetic fields generated by the old magma causes compasses to malfunction.
Getting lost is so legendary, local Japanese people fear they will become lost in the woods and be willed by invisible forces or spirits, which they call Oni, to kill themselves when that is not why they came. However, evidence proves those who go into Aokigahara Jukai intending to successfully commit suicide nearly always bring along personal accouterments and artifacts like suicide notes.
Japan's annual suicide rate is markedly higher than the average high-income country, with the country ranking in the top ten for national suicides since the 1970s. In 2020 the suicide rate dropped to 15.9 self-inflicted deaths per 100,000 Japanese citizens. Like in Western societies taking your own life is dishonorable and therefore often done alone in private.
Adding to the secretive shame is a mental illness, as you could call suicide death by depression. Unlike other developed nations, therapy, counseling, and Psychiatric medications are not entirely accepted. Until very recently, Major Depressive Disorder in Japan was called a "cold of the soul."
This mental illness mixes with the tremendous pressure to succeed in all facets of life, with financial success nearing the top of most traditional Japanese families' priorities, sometimes tragically causing the need to find the ultimate escape. Ironically, recent statistics state the annual economic impact of the depressive disorder on the Japanese economy exceeds 14 billion dollars.
YouTube videos and National Geographic photographs offer proof of this devastating mental disease in the dense woods. Official Japanese tourism websites promote the area drawing in those who visit morbid tourism destinations. Visitors report finding partially decomposed bodies, fresh corpses, and even skeletal remains of those who took their own lives in Japan's Suicide Forest.