How Your December Birthstone Can Lift the Blues
December 6, 2019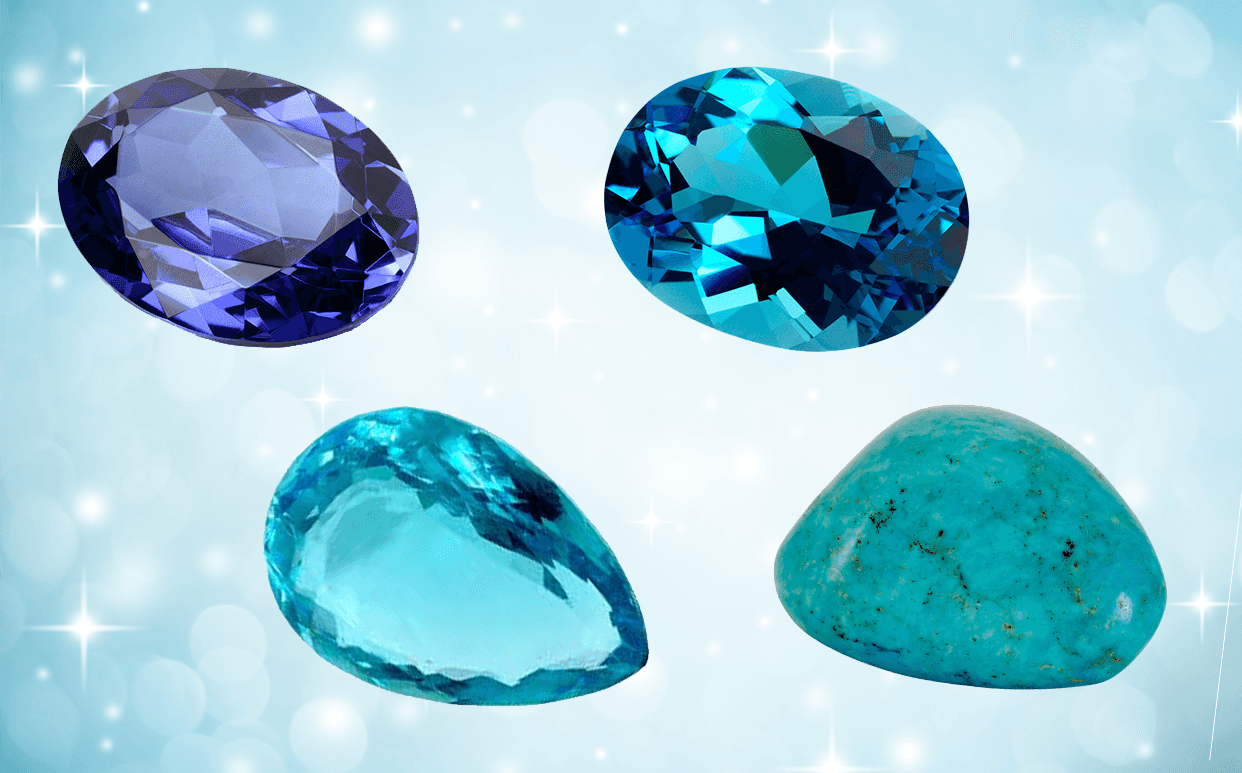 Are you feeling down because you were born in the chilly month of December? Beat the winter blues with any or all of these four blue December birthstones.
If your December birthday falls on a dreary-skyed day, boost your mood, and celebrate your special day with a stone the color of the sea or sky on a sunny day. Unlike some other months, you have not one but four to choose from: tanzanite, topaz, zircon, and turquoise.
With so many options to choose from, you can cater your birthstone choice to best suit your individual needs this year. Make this birthday shine and stand out from the other events and happenings this month with a glimmering gemstone. Remember, your birthday is a holiday too!
Learn more about the appearance and benefits of each of these beauties so you can make an informed decision on which is right for you. Find the right one to foster your goals and uplift your outlook with this informative gemstone guide.
Tanzanite
Named after the tiny region it is found in called Tanzania; tanzanite stones are semi-precious, translucent crystals which are rarer than diamonds. Recently discovered in 1967, this mesmerizing blue-purple birthstone heightens your ability to transform your life and access other sides of yourself. Experts estimate this stone to be mined to extinction by 2022, so if you are searching for a mental metamorphosis, get yours soon before they run out.
Topaz
Light blue topaz stones come from Ireland and the United Kingdom. This unusually hard stone is famous among fine jewelers resulting in a wide array of stunning ways to wear this stone. This azure gemstone amplifies the logical side of the mind, ultimately helping with controlling negative emotions, and making rational choices. Blue topaz is also good at enhancing friendships through honest interactions.
Zircon
Not to be confused with the clear imitation diamond stone called cubic zirconia, zircon stones magnify positivity. Additionally, they are used to strengthen your ability to sleep soundly, and they also harness the power to elevate your financial situation. Found primarily in Cambodia, this rare translucent stone is heat-treated to achieve a light cyan color. Cut to exude their lovely brilliance, zircon stones are also associated with Venus, which is the planet of love.
Turquoise
Most common in Native American and southwestern jewelry, this gorgeous opaque gemstone boasts such a beautiful hue, it is the name of a color. Mined in dry climates around the world this stone is harvested from underground sandstone deposits. Traditionally, turquoise represents good health and a productive harvest season. This green-blue stone also promotes well-being, security, and it offers personal spiritual protection.
All in all, those with birthdays in the twelfth month of the year may feel sad having their birthday lumped into, or overshadowed by, the winter holiday season. Although, those who have this issue can take comfort in the majesty of their aqua allies, the four magnificent birthstones. Wear or carry your chosen stone to increase your potential throughout the year and revitalize your unique Sagittarian spirit.