February's Fabulous Birthstone
February 12, 2021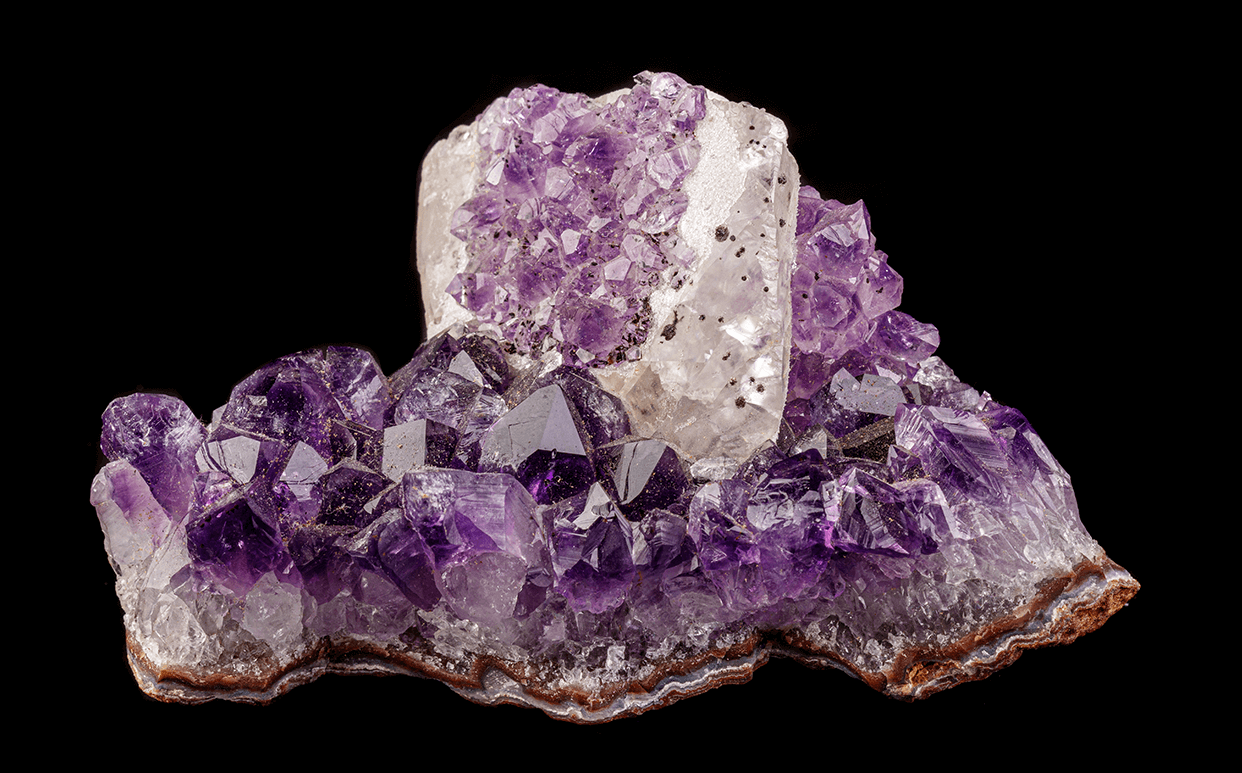 If you arrived in the world during the second month of the year like all Aquarians and some Pisces, amethyst is your one genuine birthstone. Do you want to know more about February's astounding birthstone? Learn all about amethysts like where they are mined, what they are made of, their looks, history, and spiritual significance.
This spectacular violet crystal is the state gemstone of South Carolina. Found in small deposits in the United States and Canada, larger veins exist in Austria and Russia. Currently, the most productive mines are in Uruguay, Zambia, Tanzania, and Bolivia, while the most popular dig it yourself spot for families is in Thunder Bay, Ontario.
While small, rounded, individual stones exist in nature, amethyst primarily exists in geode form. To date, the largest amethyst geode ever discovered is named the Empress of Uruguay. This massive treasure weighs over 5,500 pounds and is nearly 11 feet tall and is estimated to be 130 million years old.
Geologists refer to amethyst gems as hexagonal silicon oxide crystals. Their color comes from iron impurities found inside the igneous, sedimentary, and metamorphic rocks in which they form. Other than their violet hue, amethysts are virtually the same chemical composition as every other silicate quartz stone.
Amethyst varies in color from light lilac to a deep and vibrant purple. If it is any other color other than a transparent or translucent shade of purple, it is not a pure amethyst. For instance, in rare occurrences, amethyst and citrine combine during formation resulting in a different type of stone called ametrine, which is both purple and green.
Traditionally worn for over 2,000 years by royalty, amethysts' regal color demands attention and commands respect. Ancient Egyptian, Greek, and British rulers preferred amethysts as status symbols over any other stones like diamonds. However, today you do not have to be born to the purple to afford amethysts. Reclaim your birthright by surrounding yourself with your stunning, yet budget-friendly, gemstone. After all, it is your birthday!
Spiritualists and yoga practitioners know amethysts are air symbols that align with the crown chakra. Opening up the third eye with an amethyst allows you to see your inner intuition and personal perspectives better. Therefore, by utilizing your birthstone during meditation, you have a clearer vision of your life path.
Amethysts are beneficial for anyone born in February who is undergoing hard times. An all-around healing stone for emotionally sensitive people and empaths, amethysts also enhances the user's mental and psychic energy. Helping to fight fatigue brought on by stress and negative situations, amethysts also have a calming effect for those with anxiety.
To conclude, you now know more in regard to amethyst's rich history, locations, exact composition, spiritual meaning, and physical description. Hopefully, you can use this information to make the most informed choice when it comes to picking out your next best February birthstone.