Top 10 Christmas Movies
December 14, 2018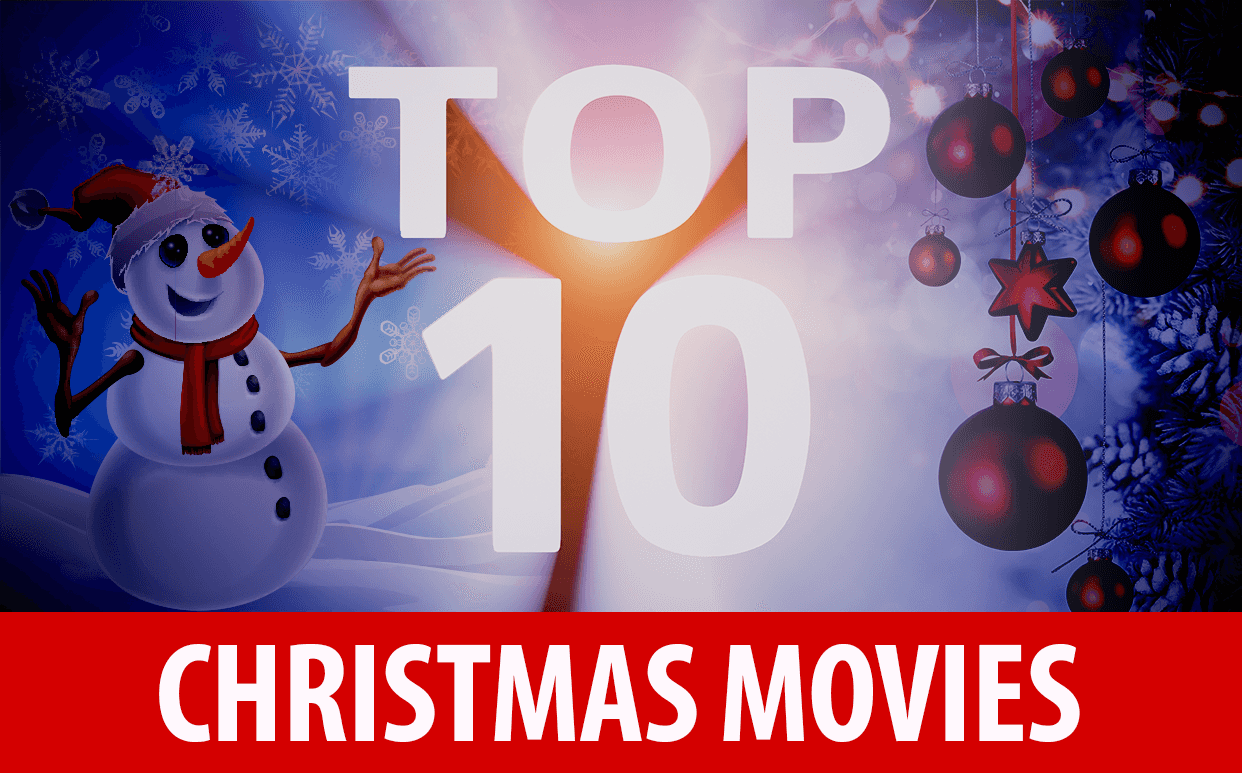 Baking cookies, decorating the tree, shopping for family and friends—there are plenty of beloved traditions every holiday season. Make Christmas movies a part of the fun with these classics that are bound to get you in the Christmas spirit!
10. White Christmas (1954)
Set during WWII, a duo of notorious performers join an on-the-rise sister act to perform a modest Christmas show at a rural Vermont get-away. Once there, they run into their old army commander who is now the owner of the quaint inn. It doesn't take long to realize that the inn is failing financially and the performers join forces to transform their show from modest to a miracle, so the inn gets back on its feet!
9. Christmas Vacation (1989)
When Clark Griswold's bumbling cousin Eddie shows up with his family and RV in tow and Clark's job scams him on the Christmas bonus he desperately needs—the perfect Griswold Christmas he dreamed of for his family seems like a more and more distant reality. Will Clark be able to pull off a Christmas miracle for a yuletide celebration to remember or will untimely misfortune get in the way?
8. Miracle on 34th Street (1947)
This classic centers around a man, Kris Kringle, who heroically steps in for an intoxicated Santa in Macy's infamous Thanksgiving Day parade. After making such an impression on parade-goers and shoppers, the man claims to be the-real-deal Santa Claus. What ensues is court case aimed to evaluate his mental health and authenticity, but what they end up finding is the true spirit of Christmas.
7. It's A Wonderful Life (1946)
At the end of his rope, a man considers ending it all on Christmas in the town he fought hard to keep in good hands. Before he can, he is greeted by a guardian angel, Clarence, who shows the man a perspective of what his home would look like without his good deeds and influence. Seeing his efforts were not in vain, he's convinced that it is a wonderful life after all!
6. Home Alone (1990)
In a hectic holiday hurry, Kevin McCallister is accidentally forgotten by his family on their way to the airport. Thinking his wish to have no family came true, he soaks in his alone time and new-found freedom. The vacation doesn't last long, however, when Kevin meets two con men who are determined to rob the McCallister home—and he is the only family member there to protect it.
5. A Charlie Brown Christmas (1965)
This animated classic follows Charlie Brown and his friends as they try to convince Charlie of the true meaning of Christmas. Afraid that he does not have what it takes to enjoy the holiday and all the joy it brings, Charlie is in need of some guidance on how to find happiness during Christmastime before it is too late.
4. The Nightmare Before Christmas (1993)
In a world divided by holidays, Jack Skellington, the pumpkin king, is sick of the same tired routine of scaring those in the real world. When Jack accidentally stumbles into Christmastown and is warmed by joy and high spirits, he has a new dream—to hijack Santa and take over his role. He quickly finds out, though, that Christmas shouldn't be about obtaining his selfish vision, but is rather about the joy of giving to others.
3. Elf (2003)
Accidentally transported and raised in the North Pole, Buddy realizes that something is different about him among his family of elves. Determined to find his real family and place in the world, Buddy travels to New York—in full elf uniform. Misfortune and chaos ensue as Buddy unyieldingly and innocently searches for the truth in a harsh world.
2. A Christmas Story (1983)
You'll shoot your eye out with this undying Christmas classic. A Christmas Story follows the adventures of Ralphie as he dreams of escaping a local bully and getting his ideal Christmas gift, a Red Ryder air rifle—but do all of his Christmas wishes come true?
1. Rudolph the Red-Nosed Reindeer (1964)
The red-nose seen 'round the world!—Rudolph the Red-Nosed Reindeer is a true underdog story. Will Rudolph's determination and quirky red-nose have what it takes to combat the Abominable Snowman and save an entire island of misfit toys?
Ho ho ho, there you have it! Snuggle up with your family this holiday season and catch up on all of the feel-good Christmas joy with these classics—-new and old!