The Friday the 13th Superstition Revealed
September 13, 2019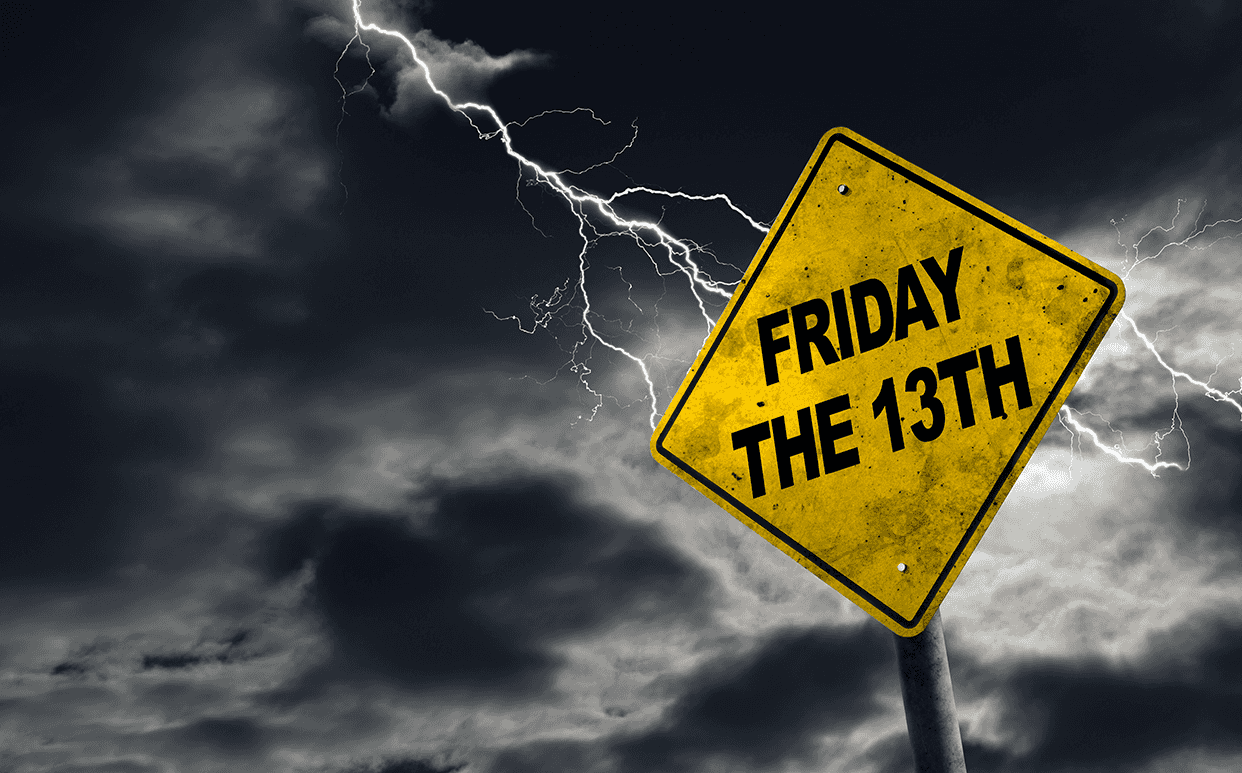 Walking underneath a ladder, breaking a mirror, crossing paths with a black cat—there are plenty of superstitions that span culture and time. But with a cult horror movie franchise, a 19th-century secret society, and two of its very own clinically defined phobias, Friday the 13th stands out as one of the most infamous of all superstitions. How did our fear around this day come to be? The history behind this mythical date might surprise you!
The Fear of 13
Various cultures have been wary of the number 13 since biblical and pre-biblical times. The number 12 symbolizes a sense of "completeness." For example, there are 12 days of Christmas, 12 signs in the zodiac, 12 gods of Olympus, 12 months in a year, and time is measured in groups of 12 hours, making 13 an unstable and unfavorable number. The fear of the number 13 is known as "triskaidekaphobia," and fear of Friday the 13th itself is "paraskevidekatriaphobia," if you dare to pronounce them.
The United States is not the only place that has an uneasiness with the number 13. Both Spain and Greece are also struck with a case of triskaidekaphobia and claim that Tuesday the 13th is the unluckiest date on their calendar.
What Does Friday Have to Do With All Of This?
Perhaps the most infamous association with Friday and the number 13 is linked to the Last Supper. With 13 guests present at the table on Maundy Thursday, Jesus and his 12 disciples, one disciple, Judas, would go on to betray him. Jesus was then crucified on the following day, a Friday, making this pairing especially ominous in the Christian view.
A Film and A Secret Society
In and outside of Hollywood, this day can't escape its bad reputation, so much so that many influential men in the late 19th century—including five former US Presidents—formed the aptly named "Thirteen Club" to dispel superstitions around the number. The members would meet on the 13th of each month, at 13 minutes past the hour, and sat 13 members at each table. Fortunately, there were no devastations that struck any of the club members who were keen on pushing their luck.
In modern popular culture, there is also the ski-mask-wearing mass murderer, Jason that crept inside our imaginations with over ten feature horror films. As the story goes, Jason was a physically deformed child abandoned by his father, but overprotected by his mother. In an attempt to escape menacing bullies, Jason jumped into a lake at summer camp and drowned. His mother was vengeful and furious at the camp staff that didn't help her son. Friday the 13th was an unlucky day for campers and visitors to the area because that's the day Jason returned from the grave to wreak havoc and extract his revenge.
Whether you are easily gullible or prefer to court danger, you can't deny that the foreboding pairing of Friday and the number thirteen has captured our imaginations and superstitions for upwards of thousands of years. Due to the complicated history and power of belief, it may be in your best interest to throw a little salt over your shoulder the next time this dynamic duo occurs on our calendar!