All About Groundhog's Day
February 5, 2021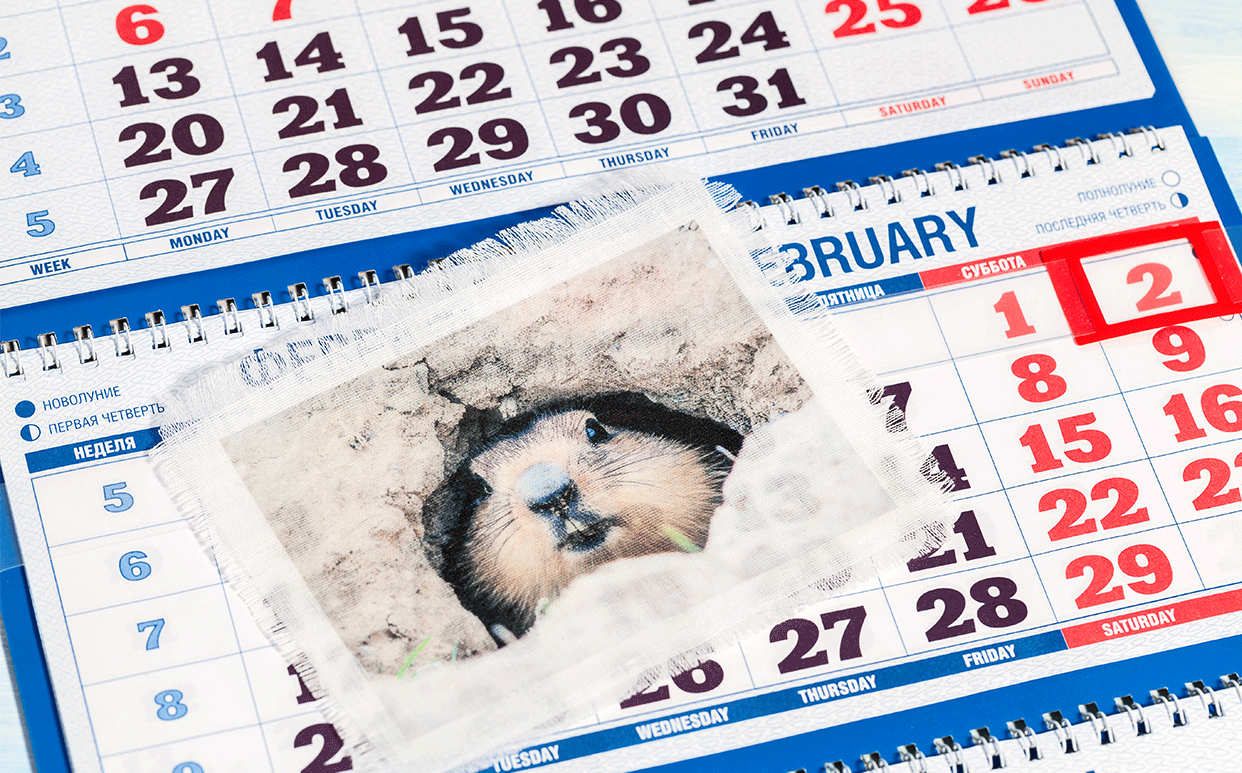 Every February 2nd in the United States, the nation has its eyes on a small, extraordinary mammal. It is the one day a year a groundhog becomes an esteemed meteorologist! According to tradition, if the groundhog comes out of its hole and sees its shadow, there is an agonizing six additional weeks of winter weather. If the groundhog does not stand in its shadow—we are on our way to an early spring! So, how did this wacky holiday come about? Some of its roots might surprise you!
Groundhog's Day Origins
We've all heard of Groundhog's Day, but there is a great possibility you may have never heard of its sister holiday, Candlemas. The ancient Christian tradition of Candlemas dates back to the 11th century in Germany. Clergymen would bless and portion out candles to families for the long winter months. The number of candles and the amount of time they lasted would come to represent the prediction of the length and severity of the winter weather. Candlemas occurs between the December solstice and the March equinox—the halfway point between winter and spring.
How Did Groundhogs Get Involved?
How did this tradition transform from candles to groundhogs? When Germans emigrated to the United States, they elaborated on this holiday and began to incorporate hedgehogs to predict the weather in their traditions. Hedgehogs are closely related to groundhogs and were plentiful in many areas the Germans settled. As the years passed, the groundhogs succeeded the hedgehog because males emerge from hibernation starting in early February to find a mate.
Groundhog's Day Past and Present
Many towns and cities have their very own weather-predicting groundhog; however, in 1887, a newspaper editor from Punxsutawney, PA, claims that their groundhogs, all named Phil, are the only true meteorologists! Over a whole century later, the film Groundhog' s Day starring Bill Murray gave even more meaning to the holiday. Due to the movie's plot, many people will call the phenomenon of the same thing occurring over and over "groundhog's day." Despite the shapeshifting of the holiday, tens of thousands of people gather in Punxsutawney every year to see Phil make his prediction!
Is Groundhog's Day an Astrological Holiday?
There is some science behind the quirky magic of Groundhog's Day. Believe it or not, astrology has a lot to do with what is happening in the cosmos on February 2nd. It's no mistake that the date falls on what we call a 'cross-quarter day,' or a day when we are as midway between a solstice and equinox. February 2nd is the first of the four cross-quarter days of each year. There are other celebrations for each of these cross-quarter days rooted in pagan and ancestral traditions, including Halloween. It was important for our ancestors to predict the weather as best they could by this date because their crops' livelihood depended on it.
So, what do you think this year? Will we have a long drawn out winter or some early warm weather? Some call it magic, and some call it theater, but there is no denying that Groundhog's Day has more meaning than just a mammal weatherman!