A Toast to National Tartan Day
April 2, 2021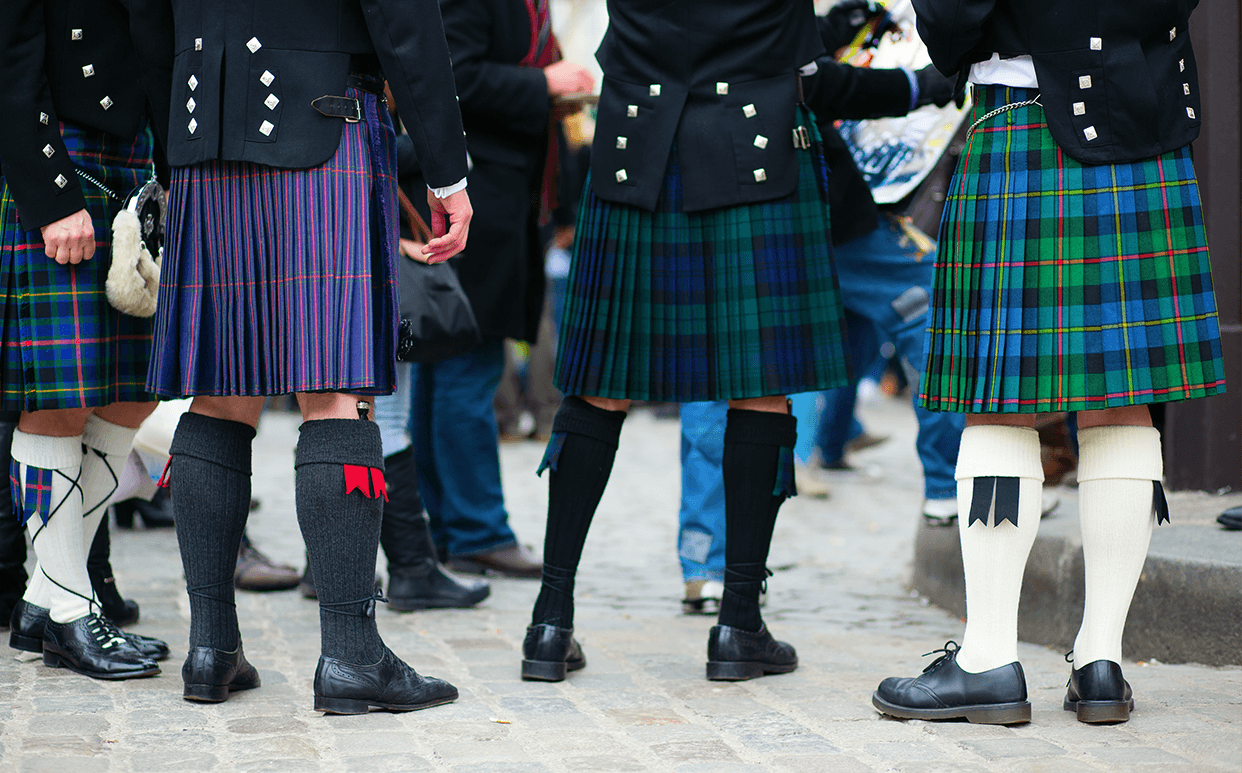 April 6th is National Tartan Day. Are you ready to dress the part? Commemorate this holiday by celebrating in style and dressing to the hilt with a kilt. Learn about the history of tartans so you can be glad the next time you wear plaid.
Celtic peoples have made tartan fabrics for around 3,000 years. The oldest tartan discovered was adorning the remains of a Celtic man found in a grave in modern-day Northwest China. Experts estimate his death as 1,000 B.C.
Made popular by Scottish Highland, Caribbean, Indian, and African cultures, today people still wear tartans as a symbol of cultural ancestry, lineage, and geographical heritage. Respectively, these bold and geometric prints are highly distinguishable from one another. They are referred to as MacGregors, madras and Maasi tartans.
Regardless of the type, most often, tartan fabrics are worn during times of celebration, for special occasions and on religious holidays. Tartan fabrics from the MacGregor clan are most famously associated with pleated skirts called kilts, usually worn by men. However, technically, nearly any garment can be crafted out of tartan.
Known as shuka cloth in Eastern Africa, the Maasi tribe adorns themselves in swathes of tartan by wrapping it around their shoulder to provide durable protection from the elements. The madras variety which stems from India, but was adapted in the Caribbean in the 1600s, is more often used to make shorts, head wraps, hats and ladies skirts.
Traditionally made from colored strands of wool or cotton muslin, tartans are woven in a criss-cross pattern. This weaving can be done by hand or by machine at a right angle, creating a twill by advancing the threads one at a time in a two over two under layout in the warp and weft.
One full square shape is called a sett. Hues and tones vary greatly depending on to which location it is tied. Nowadays, people make tartans from a variety of modern synthetic materials such as rayon and polyester.
Unlike tartans from other regions, nearly every Scottish clan tartan is registered, named, and searchable in online databases. If you have descendants from this area of the world, you can find your surname (last name) and thereby your family tartan. If you are unsure of your family history before their immigration to the USA, the official Ellis Island tartan may be appropriate for you.
Queen Elizabeth III has her very own Balmoral tartan which can only be worn with her express permission. Do you desire a unique tartan of your design? Search online for sites which offer programs to play with and even eventually produce your one of a kind tartan.
To wrap it up, tartans are significant types of cloth which represent various types of life. Their vibrant colors, rich history, and instantly recognizable appearance allow them to unite people across lands and throughout time. This National Tartan Day, strut your stuff in a timeless tartan and proudly connect to your past.