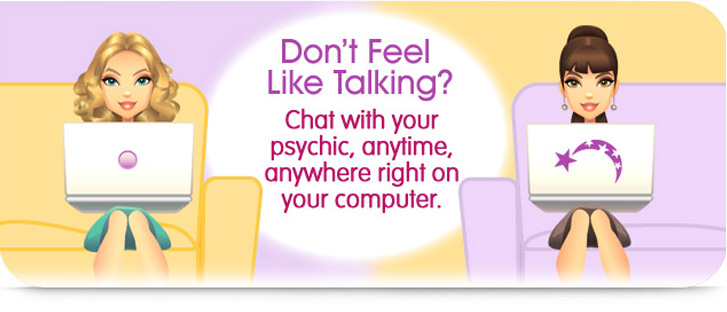 How do I get Started?
Click here to get started. As a first time customer, you're entitled to 5 Free Chat minutes. Create your free account on the next page and you'll be ready to start chatting with a live psychic immediately!
How Much Does Online Chat Cost?
The Online Chat rate is the same as the psychic's phone rate. And remember first time customers can chat for 5 minutes for FREE! Click here to begin.
Do I Need Special Software to Use Online Chat?
Absolutely not. Just create your account and start chatting. Click here to begin and get the first 5 minutes FREE!
How does Online Chat work?
Once you create an account and click the Online Chat button or link, you will be connected with your psychic of choice. If you're a new customer, your first 5 minute of chat are free. If you're an existing customer with time in your account, your existing account minutes will automatically be used. To quit, simply click the "End Session" button. It's that easy.
Click Here to Chat – Get 5 Minutes Free!